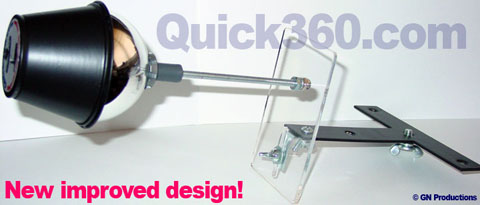 Available 8/1/05. New lower price! Try it with Panomator software.
360° Panoramas...with no stitching required!

A complete one shot panorama imaging system that uses "open source" software solutions. No stitching images together, and no "per image" fees. A very cost effective system.

Learn how the process works by building your very own reflector using the parts supplied. It is easy to put together and attaches to the tripod mounting hole on the bottom of your camera, so it will work with many different models.

Our comprehensive tutorial disc shows you how to create a 360 degree panoramic image from a single digital photograph, with easy to follow color photos and video clips. Capture your surroundings, and even freeze motion.

Order your kit today for only $59 (plus shipping) New lower price!

New! Online Demo See how it works!

(Flash Player required)

Note: Digital camera not included. See other limitations listed below.

Actual image of Magic Island at Ala Moana Beach in Honolulu, Hawaii. Image was processed using the included GIMP software & plugin.
If you've looked at other one-shot panorama systems before, you may be wondering... Why is this one so cheap?
Shipped in parts, assembly required...

You are buying direct from the source, no "middleman" to inflate the price.
This is a "kit" -- you have to put it together.
It will take some patience to get the reflector properly aligned.
The reflector is not made of optical grade material and will have a few minor surface imperfections, but it will produce overall decent results. It is designed to be educational (for ages 13 and older), not professional.
The reflector element is made of glass, and is very fragile. It must be handled with care. (Replacement elements are available for $15 each.)
You must have a digital camera with a tripod mounting hole, at least 3 megapixels resolution, optical zoom, and manual focus* down to .2 meters.
The reflector assembly connects to the tripod mounting hole, so it cannot be mounted on a tripod. You must hold it over your head when taking photos.
Minimum computer requirements: Windows 98, 200 mhz Pentium class processor, 64 mb ram, and a cd-rom drive.
The image editing software included in the kit is only for Windows computers and is "open source". Limited technical support is available via e-mail only. (The interactive tutorial works with both Windows and Macintosh.)
Macintosh users must have their own Photoshop compatible image editing application, but a plugin is included. (Photoshop/LE & PhotoDeluxe 4)

If you don't like any of the limitations indicated above or do not meet the minimum requirements, then please don't order this kit.

* New Auto Focus method! Works with many more cameras.
Your kit will contain:

All the parts necessary to build your own reflector
Interactive "step-by-step" tutorial cd-rom with easy to follow color photos and instructional video clips
"Open source" image editing software (for Windows only)
"Open source" plugin (for Windows & Mac) to process photos with a Photoshop compatible image editing application

Buy It From CCNow for only $59 plus shipping

Don't wait, get yours today!
Other software solutions that will work with this reflector...